Mitacs Globalink Research Award – Campus France
Clarisse Faria-Fortecoëf
(Pour consulter cet article en français, cliquez ici)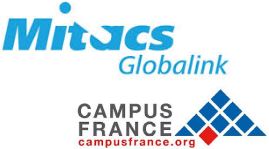 An initiative and a mobility support between France and Canada intended for Master (M2) and PhD students from French universities. Successful applicants will be able to participate in a research project, supervised by a host professor at a Canadian university, as early as February 2016.

Application deadline: November 20, 2015

.
Approved projects in the framework of the Mitacs Globalink Research Award – Campus France, last a minimum of 12 weeks and a maximum of 24 weeks.

Mitacs will award successful applicants up to $5,000 CAD in funding to cover project costs, including accommodation and local expenses in Canada. Funding will be in the form of a research grant to the Canadian academic supervisor; via the Office of Research Services (or equivalent thereof).

In addition, Campus France will award each applicant

$5,000 CAD

in funding to cover the costs of return airfare, visa reimbursements, health insurance, and living costs while in Canada. These funds will be directly deposited into the French applicant's bank account no later than 30 days prior to their intended departure from France.
M2 and PhD students and their host academic supervisor have to submit their application directly to Mitacs by email at

apply@mitacs.ca

.
For more information about this award and Call for projects, please click here.
More information about ABG?
Get ABG's monthly newsletters including news, job offers, grants & fellowships and a selection of relevant events…
They trusted us