ABG recruitment services: feedback from our clients - Claire VERSCHELDE, co-founder of ICOSA
Recruitment of PhD holders can be an arduous task. ABG provides a comprehensive range of recruitment services. Who better to talk to you than the people who have used our services? Discover the return of Claire VERSCHELDE, co-founder of ICOSA...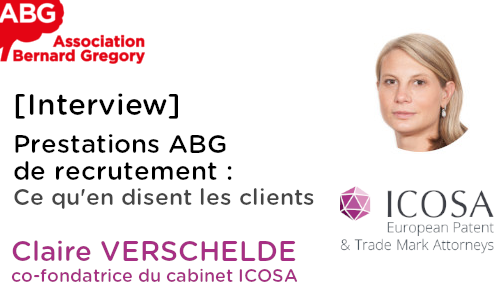 ---
Recap of the context and the service
Interview with Claire Verschelde
---
ICOSA wanted to recruit a Doctor of Immunology or Immunooncology, eager to develop in the field of Intellectual Property.
ABG accompanied the company in this recruitment through a service comprising of:
The organization of a webinar (accessible on replay during all the duration of the recruitment, on the YouTube channel of the ABG), presenting the firm and the position to be filled. Claire VERSCHELDE also presented the scientific, technical and interdisciplinary skills required and raised the awareness of potential candidates about the work of patent engineers;
Promotion of the offer to research laboratories, thesis supervisors and professional associations to increase the visibility of the offer to a specialized audience;
Searching for applicants using a direct approach;
Pre-screening of applications to send only relevant curriculum vitae to the company.
Some information about your company ?
ICOSA is an intellectual property consultancy specializing in assisting growth companies (start-ups, scale-ups) and SMEs in the health (life sciences and MedTech), Greentech and thematic sectors.
Founded in 2009 by Caroline de Mareuil-Villette and Claire Verschelde, ICOSA is now composed of more than 60 professionals dedicated to innovation and IP, and spread over 3 offices in Europe (Paris, Lyon and Brussels).
What was your need in terms of recruitment?
Our need for recruitment was to find a PhD holder in biology (particularly immunology) interested in a consultant position at the crossroads of science, law and business.
Are you satisfied with the collaboration with the ABG? And why?
Our collaboration with ABG has been excellent (as always) and has enabled us to identify together the best profiles and recruit 2 people in this recruitment campaign.
What added value did ABG bring to your recruitment?
The added value of ABG lies in the personalization of their interviews with candidates, allowing them to select the best profiles in an efficient way.
Would you recommend ABG recruitment support services?
We highly recommend ABG's recruitment assistance services!
---
Want to know more about our recruitment services? Read about them in a dedicated article.
More information about ABG?
Get ABG's monthly newsletters including news, job offers, grants & fellowships and a selection of relevant events…
They trusted us