Eiffel excellence scholarships
The main objective of the Eiffel Excellence scholarship programme is to train in French higher education institutions the future foreign decision makers of the private and public sectors. Three scientific fields have priority : sciences, economics and management, law and politics. The deadline for applications is January 10, 2024.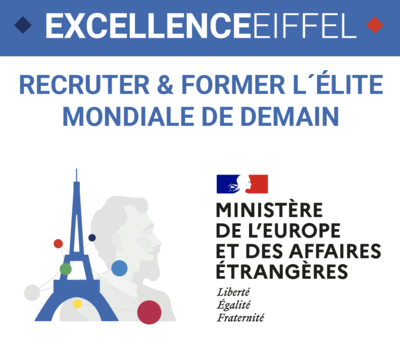 ---
The Eiffel scholarship is set up in France by the Ministry of Europe and Foreign Affairs (MEAE) to enable French higher education institutions to attract top foreign students to enroll in their masters and PhD programs.
The two main disciplinary fields concerned by the Eiffel scholarships cover the following 7 fields of study for master's and doctoral programs:
For science and technology
Biology and health
Ecological transition
Mathematics and Numeracy
Engineering sciences

For the humanities and social sciences
History, language and French civilization
Law and Political Science
Economics and Management
Applicants up to 25 years old at master's level, and applicants up to 30 years old at PhD level;

French higher education institutions must select and present their candidates. They are responsible for filling out and sending the application files;
The master's program provides funding for training leading to a master's degree, from 12 to 36 months;

The doctoral program provides funding for 18-month mobility to France, and is only available to students applying for the first year of their thesis;

Eiffel scholarship amounts to 1 181 EUR for master, 1 700 EUR for PhD, plus travel expenses, benefits and cultural activities. Grant holders can also receive a housing stipend.
The final deadline for institutional application is January 10, 2024.
Students should contact the French institutions to find out their application deadline.
More information about ABG?
Get ABG's monthly newsletters including news, job offers, grants & fellowships and a selection of relevant events…
They trusted us