Webconference on career development after a PhD
ABG has started since last week a series of webconferences to help you on your career development. To address the needs of international PhD candidates and postdocs, additional sessions in English are now organized:
on career planning – April 22 at 2pm (CET) - FULL
on networking – April 24 at 2 pm (CET) - FULL
NEW on career development after a PhD: testimonial of Patrick Eparvier, PhD in economics - May 7 at 2 pm (CET)
If you want to discuss where you stand and what your next steps will be, join our small groups of discussion: sharing experience between participants and feedback from our trainer will help you go further in your actions!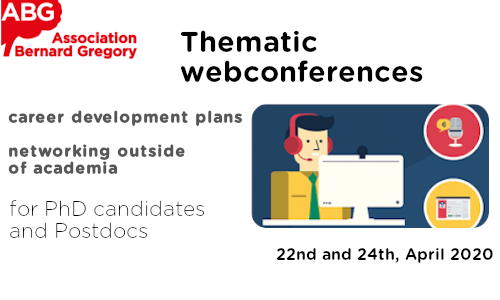 On 7 May 2020 / 14h - 15h
Training catalogue record
Tailor-made training
Inscription
Closed

Registration process

Online.

If you are unable to participate, please let us know as soon as possible so that your place can be reallocated to a person on the waiting list.

Number of seats
100
Audience
- PhD candidate
- PhD-holder

The training session will be conducted in:
English
---
Goals
Join us and meet Patrick Eparvier, PhD in Economics, consultant at Technopolis. Get inspiration and tips to develop your career outside academia!
Program
Thursday 7 May at 2pm (CET)
Career development after a PhD, by Patrick Eparvier, PhD (Senior Consultant at Technopolis)
Following topics will be addressed:
career development outside academia
working as a consultant
experience in international organisation
marketing your skills