Supervision of a doctoral candidate
You supervise doctoral students and you wish to consolidate the principles and practices that give meaning to your mission. This training is for you!
They participated, they talk about it:
"I realized that I was working as a freelancer! Now I have tools."
"It's a training that goes beyond supervision, it's about management in the broadest sense."
"When I was a doctoral student, my supervisor was excellent; now I know why."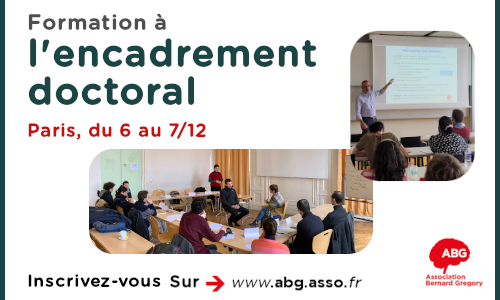 From 6 December 2022 - 9h
to 7 December 2022 - 17h30
| | |
| --- | --- |
| Training catalogue record | Supervision of a doctoral candidate |
| Inscription | Closed |
| Registration process | Online |
| Number of seats | 12 |
| Audience | - Supervisor of PhD candidates |
| Further information about the audience | Any person who supervises or is going to supervise doctoral students (thesis director, tutor, industrial supervisor of CIFRE doctoral students, etc.) |
| The training session will be conducted in: | French |
---
| | |
| --- | --- |
| Paid service | |
| Rate (per person) | 1440 € TTC |
| Staff from research organizations and universities | 960 € TTC |
Goals
Gain experience with critical situations as a supervisor
Learn to empower PhD candidates
Become familiar with management fundamentals and apply them to the supervision of PhD candidates
Encourage the integration of doctoral students and build a doctoral supervision mode of operation
Build a common vision of the supervision of a PhD candidate
Program
First day
The roles of supervisor and doctoral student, building an effective relationship - Elaboration of a common vision and knowledge of official recommendations
Welcoming and integrating a doctoral student, the key role of the first year - Reflection, exchange of practices, methods to take away
Accompanying the doctoral student in becoming autonomous - Methods to take away
Second day
Management fundamentals and application to the supervision of PhD candidates – Simulations and methods to take away
Role-playing
Ensuring quality recruitment of PhD candidates – Analysis, sharing of practices, methods to take away
Address : 199bis Rue Saint-Martin, 75003 Paris
More information about ABG?
Get ABG's monthly newsletters including news, job offers, grants & fellowships and a selection of relevant events…
They trusted us