Archives
Depuis 1982 les publications de l'ABG racontent l'histoire de la formation par la recherche et de l'insertion professionnelle des docteurs (PhD).
Publié par l'ABG, le magazine trimestriel Docteurs&Co est paru de mars 2004 à juin 2010.
De mars 1982 à octobre 2003, l'Association Bernard Gregory a publié près de 80 numéros de sa lettre trimestrielle : Formation par la Recherche.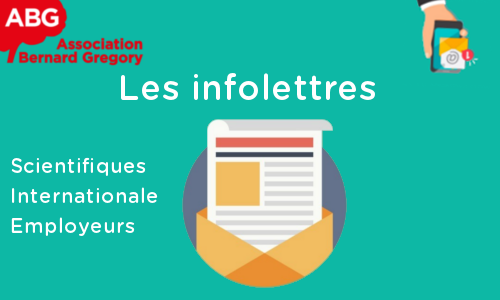 ABG Newsletters
Each month, ABG provides you with an overview of its news, as well as that of its network, through 3 newsletters:
"Researchers newsletter" for PhD candidates, PhDs, engineering students and Master students (FR)
"International newsletter" for all audiences interested in news, funding, and especially international mobility, opportunities and job offers for an international audience (EN/FR)
"Employers newsletter" for companies and other organisms which recruit PhDs
Read our latest newsletters and... subscribe to the newsletter of your choice .
More information about ABG?
Get ABG's monthly newsletters including news, job offers, grants & fellowships and a selection of relevant events…
They trusted us