Be Basque Talent Conference - Paris 2019
The Be Basque Talent Conference is a networking event in which close and cordial contacts between the participants and the representatives of the Basque companies guarantee the building up of professional relationships in an atmosphere of trust.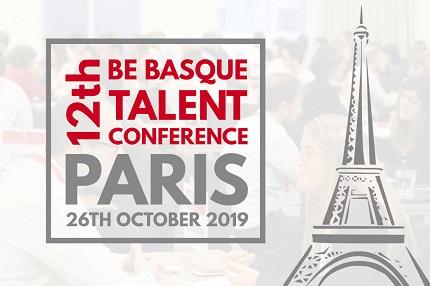 ---
---
Exhibitors
Renowned organisations such as
Ikerbasque, Achucarro - Basque Center for Neuroscience, BCAM - Basque Center for Applied Mathematics, CICenergiGUNE, CICnanoGUNE, Ikerlan, Vicomtech, Tecnalia Research & Innovation
will be among the 43 companies and research institutes prepared to meet you and present their projects.
Who can attend?
Exhibitors are looking for following profiles:
Spanish speaker
Willing to investigate new opportunities
Keen to explore the bridges between academia and industry
PhD candidates and/or postdoctoral researchers from the following fields:
Applied Mathematics, Computational Statistics, Machine Learning, Data Science, Computational Biology, Computational Physics,Computer Sciences or Material Science
Neuroscience, Neurobiology or Computational Biology or Computational Neuroscience
Materials science or engineering, Condensed matter, Nanoscience, Nanotechnology, Organic/Inorganic chemistry, Chemistry,Chemical physics, Biophysics,Biotechnology , Molecular biology or Biochemistry
Energy storage: Electrochemistry, Materials Science, Solid State Chemistry, Solid Electrolytes, Advanced Electrodes or Thermal Energy Storage
Dietetics and Nutrition, Technologists, Sensory analysis expert, food industry
Information and contact
Where and when?
New Cap Event, 3 quai de Grenelle, Paris
October 26, from 8:45 am to 7:30 pm
Contact
Mireia Azpiazu
mireia.azpiazu@bebasquetalentnetwork.eus
or
Ander Markina
ander.markina@bizkaiatalent.eus
More information about ABG?
Get ABG's monthly newsletters including news, job offers, grants & fellowships and a selection of relevant events…
They trusted us