Thematic webconferences in English for PhD candidates and postdocs by ABG
Join us for 2 sessions in English to discuss your career development plans and to increase your efficiency in networking outside academia: 22 April and 24 April. NEW SESSION: May 7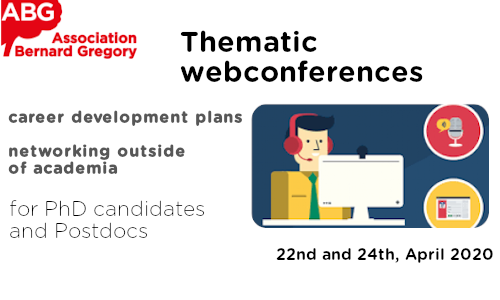 ---
---
Programme
ABG has started since last week a series of webconferences to help you on your career development. To address the needs of international PhD candidates and postdocs, additional sessions in English are now organized:
on career planning – April 22 at 2pm (CET) - FULL
on networking – April 24 at 2 pm (CET) - FULL
NEW SESSION on career development after a PhD: testimonial of Patrick Eparvier, PhD in economics, consultant at Technopolis - May 7 at 2pm (CET)
If you want to discuss where you stand and what your next steps will be, join our small groups of discussion: sharing experience between participants and feedback from our trainer will help you go further in your actions!
Information and registration
Language
English
Priority will be given to non French speaking international researchers: if you're not in this situation and register for the session, you will be removed to the waiting list. French speaking researchers are invited to book a seat in the French sessions.
Where?
On zoom platform (the link will be sent to you a few days before the session)
How much?
Free
Registration
Registration online is now open. Attention! The number of participants is limited to 8 (except for the webconf on career development).
Career planning - April 22, 2pm (CET)
Networking - April 24, 2pm (CET)
Career development after a PhD - testimonial - May 7, 2pm (CET)
Contact
Please contact us, if you have:
- any questions about the programme
- any great ideas you would like us to implement
- the wish to organise such webinars for your own PhD candidates or postdocs
Contact: Bérénice Kimpe, Head of International department
More information about ABG?
Get ABG's monthly newsletters including news, job offers, grants & fellowships and a selection of relevant events…
They trusted us