Audrey Dominguez : Cifre PhD & Communication Officer
Audrey Dominguez holds a Cifre PhD in French literature and French language, specializing in the sciences of imaginaire. Thanks to a Cifre agreement (Industrial Agreement for Training through Research), she had the opportunity to work on her thesis and aquire her PhD while working in the company « Au temps des Fées », in Grenoble. Read more about her career path, her views on the dctorate and the assets it comes with, as well as some advice...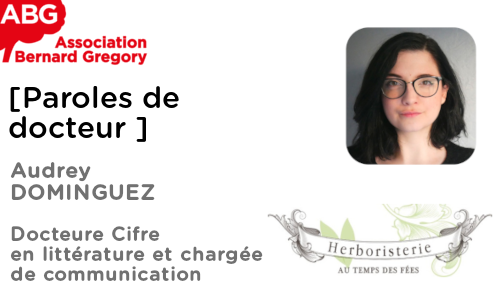 Author : Audrey Dominguez, PhD
I Hold a PhD in French literature and French language, specializing in the sciences of imaginaire, meant as "the study of images, representations and myths which participate in the formation of our individual and collective stories".
From January 2017 to December 2019, I completed a Cifre PhD program, which is an industrial agreement for training through research. I produced a thesis entitled Histoires des noms des plantes : le Jardin Médicinal d'Antoine Mizauld with the support of the company "Au Temps des fees" and the laboratoire Litt&Arts laboratory at the University of Grenoble-Alpes (UMR CNRS 5316, UGA). I defended my thesis on June 18, 2020 and published it online in early fall. Since September 2020, I have been an associate researcher at the Litt&Arts laboratory.
student background
My student background is rather linear: literary baccalaureate, bachelor's degree in modern literature and master's degree in literature, specializing in research - all at Grenoble. 4 major events have had a decisive impact on the establishment of my professional project:
in my final high school year, I was hesitating between literature and anthropology. I was already interested in words, speeches and, above all, the impact they could have on individuals. I shared my thoughts with a teacher who strongly advised me against studying anthropology. I followed his advice, reluctantly;

As part of my bachelor's degree, I did an internship in a bookstore. In addition to enjoying "studying books", I noticed that I was keen on participating in the life of a company linked to the publishing market and culture. I felt a sort of a satisfaction in the slightly physical work, such as helping to tidy up, organizing, filling boxes. I could physically experience the impact of my actions on people and organizations;

During my master's degree, I had the opportunity to give lessons to undergraduate students about commentary and essay methodology. New observation: I enjoyed communicating information, but not necessarily in a classroom ;

while the perspective of academic teaching was fading away, my thesis supervisor, being part of the Litt&Arts laboratory, suggested that I consider other professional options related to my research subject (the representations of the lily in medieval texts). This led me to contact the company "Au Temps des fées" in order to ask for an internship and work on the modern imagination of the lily and medicinal gardens.
The CIFRE PHD PROGRAM
Elaboration of the CIFRE Agreement
The internship with the company "Au Temps des fées" went so well that we decided to establish a Cifre PhD project with the Litt&Arts laboratory, to pursue research on the images of medicinal plants. The Cifre PhD program used to be quite unusual in the Humanities and Social Sciences, but has gradually become more common in the recent years. The Litt&Arts laboratory, and more particularly one of its research centers, ISA (Imaginaire et Socio-Anthropologie...and yes, we often end up coming back to first loves), have already accepted Cifre PhD candidates. ISA proposes multidisciplinary research allowing new methodologies to flourish and supports collaborations with companies, but also associations and cultural organizations. The manager of the company, a PhD holder in the field of Pharmacy, was also confident about the knowledge and skills that a PhD candidate could bring to his organization. In addition to being well acquainted with our ways of working, the smooth running of CIFRE has been facilitated by the sharing regular reports and organizing meetings every quarter, at least.

Tasks during the PhD
My main tasks were to produce a thesis on the representations of medicinal plants and to promote the development of the brand "Comme des tisanes" of the company "Au Temps des Fées". I organized myself to allocate 60% of my time to research on medicinal plants and the development of herbal recipes. The rest of my time was dedicated to the implementation of the digital communication strategy. I was in charge of creating and programming content on social media, and I also participated in the website management, especially updating the product sheets, and writing articles about the stories of plants, as well as the brand's news.
Main skills acquired during the Cifre contract
My training in literature has helped me to contribute efficiently to writing and editing for the brand. In addition, I retain three skills as a researcher that were very useful during my Cifre contract :
Managing several projects at the same time.

As set out by the Cifre contract, I wrote a thesis in literature in 3 years - which is very short for a thesis in humanities and social sciences. This time obligation allowed me to develop organizational skills for the simultaneous time management of academic and entrepreneurial projects. It also implied good stress management facing unforeseen events.
Proposing a critical analysis. In addition to providing competititor monitoring, I made proposals based on reliable arguments so as to develop new ideas or to question certain purposes. In other words, I evaluated the reliability of a project and presented ways to consolidate it, when possible.
Avoiding unanswered questions. It is often said that a researcher is a person who aims to find good questions rather than good answers, however trying to find an answer to a problem is also one of the main objectives of research. Coming from a literary background, I trained myself in communication by reading books on the subject, contacting experts, consulting online articles, and experimenting with the various communication channels of the brand.
In the communication industry, I believe it is essential to execute a competitor monitoring . As per the Afnor 26000 standard, it is also essential to provide responsible and benevolent information. Moreover, my experience with the company has contributed to developing new skills as a researcher in literature:
Knowing how to address a wide audience. During my three years in the Cifre PhD program, I collaborated with people from academic institutions and from the private sector, but also with associations and the public sector. These interactions have allowed me to shape new ways of communicating and delivering information in the most efficient way.
Not being afraid to put your hands in the plants. Literary research is often imagined as a solitary activity, alone in a library, surrounded by piles of books. Some of my working days looked indeed like this. However the Cifre program gave me the opportunity to participate in the creation of plant recipes, to taste, to see prospects taste, react, to be part of the creation and the management of a community...
Knowing the limits of your research. All scientific information is good to know, but it is not always relevant to communicate to a company and its prospects. In a few situations, I have noted that a cordial conversation can sometimes be far more efficient than an argumentative speech backed by experts. Form is sometimes more important than substance.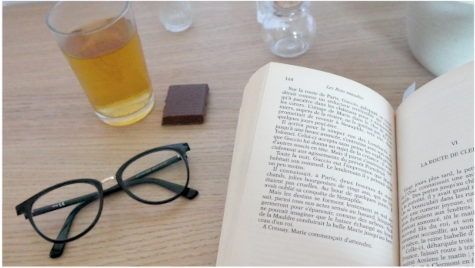 After the PhD
Missions after the Cifre Contract
At the end of the Cifre contract, I started looking for a job while preparing my thesis defense. I mainly applied to job offers related to digital communication in the private sector, but I also continued my research on the representations of medicinal plants. In October, I carried out a short project of medieval text editing. I also participated in scientific mediation activities for the Université Grenoble Alpes.
Developing your network
Despite the advice of the label REI from Université Grenoble-Alpes (UGA) (Research, Enterprise and Innovation), I developed very little of my network during the Cifre, due to the lack of time, but also because I was concerned that I would disclose confidential material to our competitors. Developing my network was therefore one of my goals for 2020. I got in touch with young PhD holders, associations of young researchers, freelancers, and communication agencies in order to learn about their activities, and to get their advice regarding the job market.
When it comes to network development, it is easy to think about contacting renowned professionnals, or people from large companies, but you can start locally and take your personal interests into account. For example, it is possible to ask a colleague's colleague for a meeting, or to attend a conference at a nearby University... If you are not really comfortable with talking to people, you ought to trigger a first contact by email, or through social media.
It is also interesting, in my opinion, to meet people who have little to do with your research or your expertise, to keep on thinking outside the box and to improve your interactions.
With these principles in mind, I have initiated a couple of projects which stray from classic academical practices. This led me to present a conference "Observing the sky during the Middle Ages" for the programme "A season in the stars" by La Casemate, at Grenoble. From this event, I have two important pieces of feedback to share:
Humanities and Social Sciences (HSS) profiles are sometimes considered to be "soft and inaccurate", but most cultural organizations are looking for these more "human" profiles and are curious to see their new ideas and projects seen through different perspectives. Moreover, an audience can quickly abandon possible prejudices and react in a more benevolent way;
in academic research, it is often the age, the experience and the number of publications that make a researcher's reputation. The youth of researchers can also be a decisive factor in attracting a new audience and stimulating new socio-cultural projects.

Approaching job interviews
From everything I have heard and experienced during job interviews, I can say that it is preferable to focus on the skills acquired rather than on the PhD program and the research subject. Moreover, soft skills are elements that allow one to stand out in the course of a selection process. They are more important criteria than one can imagine. In order to enhance the value of all acquired skills, it has become essential to work on your image, especially by the means of professional social media accounts or by creating your own personal page. Furthermore, it is always a good idea to work on the answers to the most common questions and to prepare professional anecdotes to share, ahead of each interview. However the best story remains the one that you create with your recruiter.
Although we often think of the interview as an interrogation led solely by one part, job interviews involve an exchange between two people, at least, to agree on ways to work together. The candidate is also entitled (and expected) to ask questions, seek clarification, and may to reject an offer. The pandemic we are going through is more than delicate and there are few jobs available. So, if possible, it is better to be patient than to commit to projects that are not aligned with your ambitions and your values.
Becoming a researcher in Humanities and Social Sciences (HSS) is often perceived as a demanding career, with very few opportunities involving periods of instability. This condition nevertheless enhances reflections and actions which may take you beyond the walls of Universities and laboratories. HSS methodologies contribute to the structuration of innovative and attractive projects; formulaitng words over numbers and creating relevant and moving speeches that are, in fact, sometimes more convincing than mathematical demonstrations.
More information about ABG?
Get ABG's monthly newsletters including news, job offers, grants & fellowships and a selection of relevant events…
They trusted us