Interested in the adventure of launching a Deeptech startup, with the SATT Pulsalys 2021's special startup young researchers programme
Are you a young doctor, post-doc or doctoral student at the end of your thesis? You think that your research results have the potential to become a future product/service, meeting a need in society? You are thinking about a start-up project, and consider bringing it to market?
The Young Researchers Special Startup programme may be the springboard that will help you realise your DeepTech ambition.
Apply until 15 October 2021.
---
---
Le doctorat fait émerger des talents et des projets pleins de potentiel, PULSALYS les incube pour les transformer en startups DeepTech ! PULSALYS, incubateur et accélérateur d'innovations DeepTech de Lyon et Saint-Etienne, construit les produits et services innovants de demain, en transformant les découvertes scientifiques issues des laboratoires de l'Université de Lyon en opportunités économiques pour les entreprises et les startups…
Présentez votre projet en déposant votre candidature au Programme Jeunes chercheurs !
Participez au BootCamp : un programme sur mesure conçu par PULSALYS et le pepite BEELYS (l'incubateur étudiant de l'Université de Lyon), afin de développer les premières hypothèses sur le projet et d'accompagner la montée en compétence des candidats. L'objectif est de se frotter concrètement aux enjeux du monde économique à travers des ateliers pratiques (Business Model, Propriété Intellectuelle, Création de valeur, apprendre à pitcher, etc.) dans un cursus complet de 7 séminaires répartis sur 3 semaines.
Développez vos projets ! Après le passage devant le jury, les meilleurs projets seront orientés et structurés. Les lauréats pourront présenter un budget au Comité d'Investissement de PULSALYS et bénéficier d'un accompagnement dédié en rejoignant une communauté de jeunes chercheuses et chercheurs entrepreneurs de la région : le début d'une grande aventure !
Avoir soutenu une thèse de doctorat en 2019, 2020 ou 2021 dans un établissement de l'Université de Lyon, ou avoir une date de soutenance prévue en 2021 OU être sous contrat post-doctoral dans un établissement de l'Université de Lyon.
Avoir un projet de développement d'un produit ou service innovant pouvant être transféré à une future startup en lien avec les résultats de recherche produit dans un établissement de l'Université de Lyon (en doctorat et/ou post-doctorat)
Avoir le soutien du laboratoire dans lequel les travaux ont été menés.
Avoir obtenu des résultats libres de droit permettant un investissement par PULSALYS.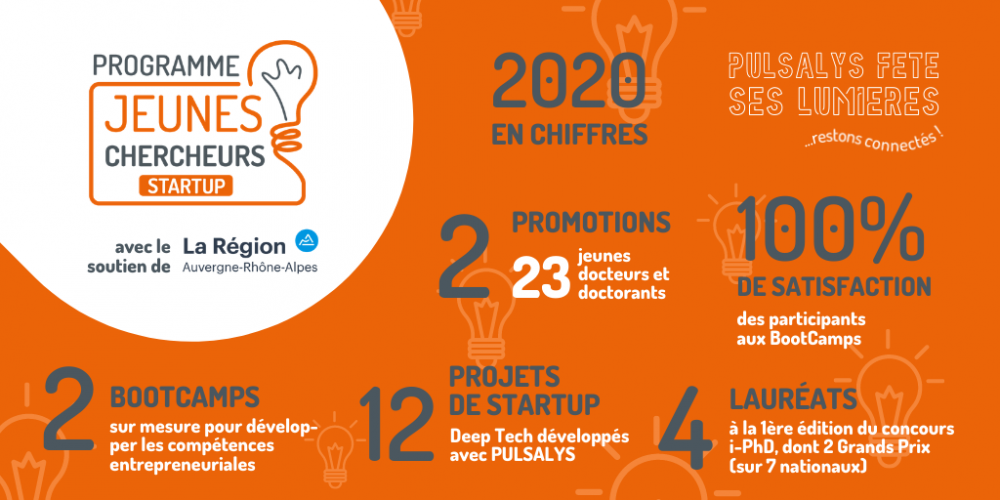 Clôture des candidatures : 15 octobre 2021 12h00.
BootCamp : lancement le 20 octobre 2021 (Calendrier prévisionnel)
Jury : 10 novembre 2021 : (date prévisionnelle).
Découvrez les témoignages des anciens lauréats en vidéo.
Toutes les informations concernant le dispositif sur le site de la SATT Pulsalys.
More information about ABG?
Get ABG's monthly newsletters including news, job offers, grants & fellowships and a selection of relevant events…
They trusted us