"Vernadsky" PhD scholarships 2022
Within the framework of the "Vernadsky" program to support the mobility of young researchers, the French Embassy in the Russian Federation is awarding PhD scholarships for the year 2022 for a cotutelle thesis.
Application deadline: December 17, 2021.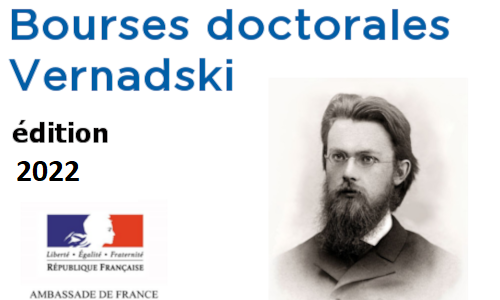 ---
---
The "Vernadsky" program assisting in the mobility of young researchers covers 4 calendar years (3 academic years) and alternates stays in France and in Russia (as an indication, 3 months the first year, 6 months the second and third year, 3 months the last year). Students finishing their master's degree in the summer of 2022 are eligible. Except for justified exceptions, applications for a shorter duration will not be considered. All scientific fields are eligible.
Free visa
Social security coverage
Payment of tuition fees
Priority access to university residences (except in Paris where accommodation is not guaranteed)
Indicative duration and progress: 6 months of maximum allowance per year (about 1 415 € per month) according to the following scheme: 3 months from 01/10/2022 + 6 months in 2023 + 6 months in 2024 + 3 months in 2025
To be a graduate of Russian higher education at the level of master or specialist by June 2022
Be a Russian citizen and a student in Russia
To choose a PhD program in cotutelle between Russian and French universities
Have a good knowledge of the French or English language
CV.
Description of the research project (2 to 5 pages recommended), presenting its subject, a brief overview of literature, the questions addressed, the methodology followed, the distribution between the two laboratories
Translated and certified copy (by a notary public or by the university's international relations department) of the diploma
Letter of admission or pre-admission to a French higher education institution
Letters of recommendation from the two thesis supervisors
Copy of the student card or work permit (without translation)
Letter from both thesis supervisors confirming the steps taken to sign a doctoral agreement for a co-supervised thesis, or the agreement itself.
Application deadline: December 17, 2021.
To apply, please send an email to bgf.moscou-amba@diplomatie.gouv.fr with the title [Candidature_Vernadski_2022] to be considered and attach the above questionnaire (in Excel format) and a single PDF document (<2Mb) written in French or in English, containing, in order, the CV, the project, letters of admission and recommendation from the two thesis supervisors. The other documents can be attached to the email in free format.
More information about ABG?
Get ABG's monthly newsletters including news, job offers, grants & fellowships and a selection of relevant events…
They trusted us