Initiatives
New projects, ideas, associations...
L'ABG recrute un(e) chercheur(se) Junior en Sciences Humaines et Sociales pour le Studio de Recherche et Innovation (Artimon Perspectives) de la société Artimon, cabinet de conseil en management qui accompagne ses clients dans leurs projets de transformation (digital, organisation).
Découvrez dès à présent l'offre d'emploi et candidatez, et/ou inscrivez-vous au webinaire d'information proposé le 18 mai 2021 et qui donnera la parole à la Directrice Recherche et Innovation d'Artimon : Josephina Gimenez.
L'association PhDOOC organise pour la 3 e année consécutive, le MOOC "Doctorat et Poursuite de Carrière" à destination des doctorants et des docteurs de toutes disciplines. Il s'agit d'une formation gratuite et en ligne qui débute le 7 novembre. Inscrivez-vous dès à présent, les cours débutent le 7 novembre 2018 !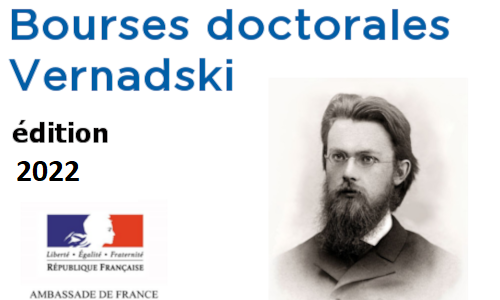 Within the framework of the "Vernadsky" program to support the mobility of young researchers, the French Embassy in the Russian Federation is awarding PhD scholarships for the year 2022 for a cotutelle thesis.
Application deadline: December 17, 2021.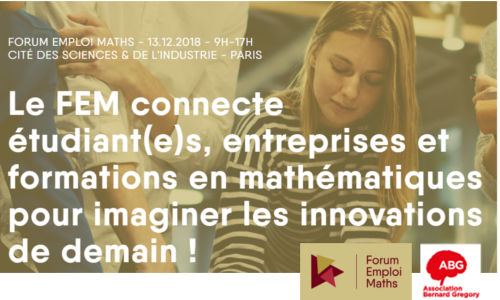 L'édition 2017 du Forum Emploi Maths aura lieu le 13 décembre 2018 prochain à la Cité des Sciences et de l'Industrie, à Paris. Il propose comme chaque année de connecter les étudiants et les formations en maths aux besoins des entreprises. Inscrivez-vous dès à présent !
The Association Bernard Gregory professional pitch contest is back for its 2021 edition at the PhD Talent Career Fair. We are proud to announce the members of the professional jury...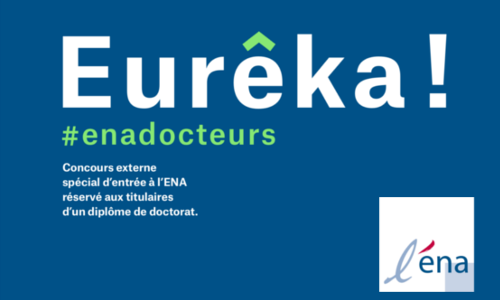 En 2019, ce concours ouvrira dans la spécialité sciences de la matière et de l'ingénieur et, en 2020, dans la spécialité sciences humaines et sociales. Trois places devraient être ouvertes en 2019, s'ajoutant aux places des autres concours (externe, interne et troisième concours).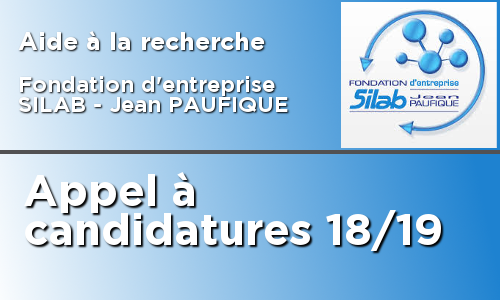 La
fondation d'Entreprise SILAB - Jean PAUFIQUE
soutient la recherche fondamentale et appliquée dans le domaine des peaux malades. Chaque année elle permet à un(e) jeune doctorant(e) ou post-doctorant(e) de mener à bien leur projet de recherche, grâce à
une dotation de 20 000 € pour une durée maximum de 3 ans
.
L'appel à candidatures de la campagne 18/19 est
ouvert jusqu'au 15/10/18.
Avec la rentrée, le concours de pitch professionnel de l'Association Bernard Gregory approche à grands pas. Vous avez jusqu'au 18 septembre minuit pour nous faire parvenir vos vidéos. L'enjeu ? 10 places de finalistes qui présenteront leur pitch sur le PhD Talent Career Fair, le 5 octobre 2018, à Paris mais surtout, face à notre jury de cadres et dirigeants d'entreprises.
More information about ABG?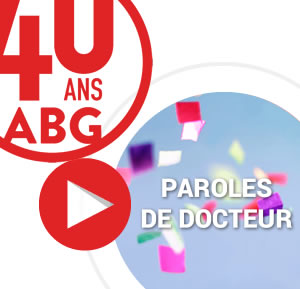 Get ABG's monthly newsletters including news, job offers, grants & fellowships and a selection of relevant events…
They trusted us