Procope: mobility to France for PhD candidates, post-docs and young researchers
The Franco-German mobility program aims to enhance scientific and technological exchanges and to promote new cooperation between research laboratories in the two countries. It supports the mobility to France of PhD candidates, postdoctoral fellows and young researchers from a laboratory or research institute in Germany. Application deadline: March 28, 2022.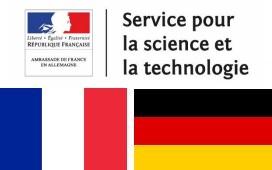 The Procope is the Franco-German Hubert Curien Partnership (PHC). It is implemented in France by the Ministry of Europe and Foreign Affairs (MEAE) and the Ministry of Higher Education, Research and Innovation (MESRI), and in Germany by the Deutscher Akademischer Austausch Dienst – DAAD.
This year, the Service for Science and Technology of the French Embassy in Germany is launching a call for applications for mobility grants allowing PhD candidates, post-doctoral fellow and early stage career researchers working in Germany to carry out a research stay in a laboratory or research institute located in France.
All scientific fields are concerned, including the Humanities and Social Sciences.
TERMS AND CONDITIONS
Duration of stay: one to three months between April 25 and December 31, 2022;
Amount of the grant :
- 1300 € per month for PhD candidates + travel expenses
- 1 800 € per month for post-doctoral fellows + travel expenses
- 2300 € per month for researchers + travel expenses
APPLICATION
The application must be in English, French or German and contain the following elements:
- A resume (maximum of two pages),
- A cover letter giving a detailed description of the research project,
- A letter of invitation from the host laboratory.
Only full applications will be accepted and considered by the jury.
>>>Download the full Call for applications in French or in German
>>> For more information, please visit the Science Portal of the French Embassy in Germany in French or in German
More information about ABG?
Get ABG's monthly newsletters including news, job offers, grants & fellowships and a selection of relevant events…
They trusted us