ATTRACT, a Luxembourg National Research Fund (FNR) program for promising junior researchers
ATTRACT is a FNR's programme designed for outstanding researchers, not yet established in Luxembourg, to set up their own research team within one of the country's research institutions. The deadline for pre-proposals is November 15, 2022.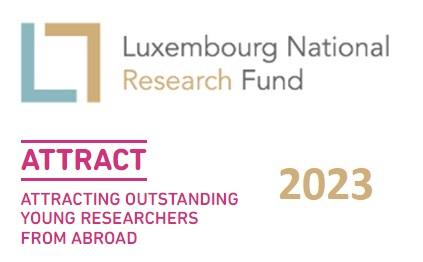 ---
The ATTRACT program offers promising junior researchers the opportunity to set up their own research team within one of the country's research institutions.
Host institutions offer candidates the prospect of developing an own research line. ATTRACT fellows are offered individual coaching and a career track towards a tenured position.
TERMS AND CONDITIONS
ATTRACT candidates should have proven experience of research in a professional context, gained, ideally, in at least two different research environments (i.e. international and/or intersectoral mobility); have an outstanding level of scientific ability; have the potential to set up and lead a research teamcapable of advancing research in Luxembourg in the relevant field;

Cadidates are eligible between 2 and 8 years after their PhD, they must have an outstanding track record in their field which has to fit strategically to the research agenda of the Luxembourg host institution,
Candidates should not have been employed by the host institution for more than a year at the date of the full proposal submission;

In the 2023 call, the FNR expects to be able to fund up to 2 ATTRACT positions;

Proposals submitted under the ATTRACT programme need to align with the National Research and Innovation Strategy for Luxembourg with the National Research Priorities (NRP), and, more specifically, with the subdisciplines and research themes defined therein (4 interdisciplinary research priority areas: Industrial and Service Transformation, Personalised Healthcare, Sustainable and Responsible Development, 21stCentury Education).

Applications have to be submitted by potential candidates in conjunction with their host institution through the FNR online Grant Management System. Candidates should contact their intended host institution well ahead of the FNR deadline to align with the institutions internal deadlines.
Depending on the experience and track record of the eligible applicant, the FNR offers two possible funding tracks: starting investigator or consolidating investigator.
Mission and funding
ATTRACT projects have a lifespan of five years with a financial contribution can be up to 1.5 MEUR for Starting Investigators (Postdoc & Junior Researcher level) or 2 MEUR for Consolidating Investigators (Established Researcher level);

The ATTRACT grant provides financial support for all aspects that are required for the development of an independent research group, including funding for personnel, equipment, consumables, travel, etc.
The final deadline for application is November 15, 2022.
CONTACT