French – Italian Day for Early Career Researchers 2023
Under the scientific label of the Italo-French University, ABG and the University of Turin are organizing the third ON-SITE edition of the French-Italian day for early-career researchers of all disciplines on October 19, 2023 in Turin, Italy. This event is an opportunity for students and researchers from both countries to get an insight on the job market and the skills necessary for a career transition and to network with recruiters and PhDs working in companies or who have launched an entrepreneurial activity. Registration is open!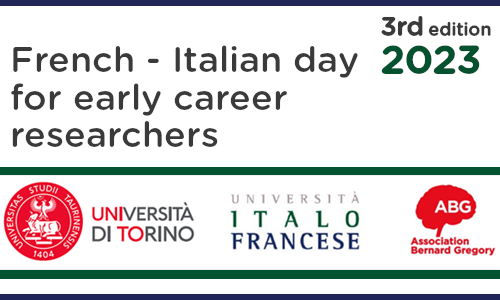 French-Italian job area for PhDs
---
The transition from academia to industry is a professional alternative for many researchers in Europe. Within this reality, networking allows them to explore the job market and seize an opportunity. This event offers information to PhD candidates and early career researchers interested in opportunities in the French-Italian region, helps them to be acquainted with the methods and the benefits of networking and to expand their professional network beyond academia.
It is targeted at master's students, PhD candidates, and post-doctoral researchers from all fields.

It may also be of interest to:
career management officers;
international relations managers in universities and research organizations;
recruiters in the public and private sectors.
This event is awarded the "Italo-French University label" given to Italian-French initiatives with high cultural and scientific value.
The event will be held in English.
About our program...
Presentation on how to move from a "candidate" logic to a "business partner" logic for a proactive job search or the development of an entrepreneurial activity;
Round table on recruitment processes in Italy and France with recruiters and HR professionals from the socio-economic sector;
Testimonials of PhD holders working in companies of both countries or who have launched an entrepreneurial activity. They will be sharing experience and providing insights on the career transitions, job search process, important skills.
The event gives an opportunity for your first steps in networking through its informal discussions during breaks and the networking cocktail at the end of this information day.
Recruiters, make your recruitments visible!
ABG members and non-members, we propose to promote your upcoming recruitments and/or your entity throughout this day:
- Take part in the "recruiters" round table to introduce your company, the added value of PhDs in your activities and to share tips on preparing a job application...
- Post your job offers on the ABG website and we'll display them on the event stand.
Contacts : Kristina Berkut kristina.berkut@abg.asso.fr
Where:
When:
October 19th from 2:30 pm to 6:30 pm
Fee:
free of charge upon registration >> Register
Contacts
Kristina Berkut kristina.berkut@abg.asso.fr (ABG) & Lucia Salto lucia.salto@unito.it (University of Turin)
More information about ABG?
Get ABG's monthly newsletters including news, job offers, grants & fellowships and a selection of relevant events…
They trusted us