« Researchers without borders » : let's discover your opportunities in Europe (Paris, December 11 and 12)
Do you plan to go abroad during or after your PhD? With a postdoctoral fellowship or for a position in the industry? Are you looking for country-specific information on funding schemes, employers, recruitment process, professional codes? This event is made for you!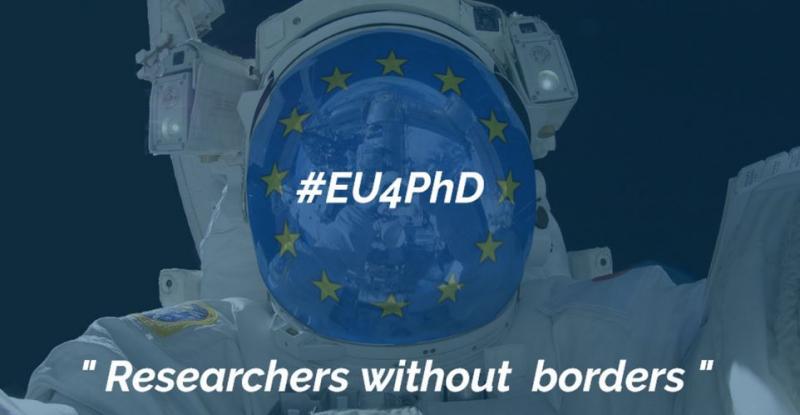 ---
Practical information, registration and programme
---
ABOUT THE EVENT
The project is run jointly by ABG, the French-German University and the French-Italian University, with the support of the European Commission.
Many organisations from academic research and industrial R&D in Europe come together on the 11th and 12th of December at Fondation Biermans Lapotre (CIUP) to give you an overview of their mobility programmes and career opportunities.
Get to know them, discuss with them about your mobility project thanks to panel discussions, talks, workshops, exhibition booths and "networking breaks". And benefit from the individual advisory sessions with European career advisors to help you define your project!

This event will allow you:
to know the research landscape in Europe, enabling you to explore the European job market for researchers
to identify the funding schemes for a research stay abroad
to understand the recruitment process in Europe and to know the expectations from recruiters in the industry
to understand the impact of an European experience on your career
to be informed and to develop your network to implement your mobility project
to be aware of initiatives making the mobility in Europe easier (recognition of foreign degrees, pension, dual career, return mobility)
All the programme is held in English.
Target groups:
Master's students
doctoral candidates and doctorate holders from all fields
representatives of universities and research institutes (International office, career center, doctoral programmes…)
Speakers
* Research institutes and universities
* Workshops and individual advisory sessions
DG Research of the European Commission: Katrin Fehringer (Euraxess)
Consortium RESAVER: Lina Donnarumma (HR and organisation manager)
ENIC-NARIC: Claudia Gelleni (Head of Department "Recognition of foreign degrees")
French Embassy in Germany: Dr Jean-Jacques Pierrat (Science and Technology Advisor)
French Embassy in Norway: Dr Jean-Michel Portefaix (Attaché for Science and Technology)
French Ministry for Foreign Affairs: Dr Jenifer Clark (Head of Unit for Academic and Scientific Partnerships)
French Embassy in Czech: Dr Mathieu Wellhoff (Attaché for Science and Technology)
British Embassy in Paris: Dr Louisa Zanoun (Senior Science and Innovation Adviser)
French Embassy in Great-Britain: Stéphanie Dos Santos (Deputy Attachée for Research & Innovation)
French Embassy in Spain: Dr Arthur Soucemarianadin (Science and Technology Advisor)
Service Public de Wallonie: Pierre Demoitié (project manager)
Research institutes and universities
Barcelona Institute of Science and Technology: Dr Nuria Puxan (Programme Manager)
Instituto Catalan de Nanociencia y Nanotecnologica: Rocio Perez (Head of HR) ; Julio Gomez (People Development Officer)
Catalan Institute for research in Chemistry: Leticia Chico (Learning and Development Officer) ; Dr Lorna Piazzi (Talent Acquisition Officer )
Barcelona Biomedical Research Institute: Leyre Caracuel (Academic officer)
German Cancer Research Center: Heike Langlotz (Programme Manager)
Karolinska Institute: Dr Anethe Manssen (Career Programme Manager)
Luxembourg Institute of Health: Virginie de Landsheer (HR recruiter)
Luxembourg Institute of Socio-Economic Research: Valérie Baran (Head of HR) ; Esther Zana-Nau (Programme Manager, Doctoral School)
Luxembourg Institute of Science and Technology: Dr Sylvie Fromentin (Programme Manager)
Instituto Italiano di Tecnologia: Lina Donnarumma (HR and organisation manager)
University of Copenhagen: Mary Kobia (International Mobility Consultant)
University of Southern Denmark: Assoc. Prof. Olivier Schmitt
DAAD: Lotta Resch
EC - Actions Marie Sklodowska Curie: Jean-Marie Pincemin (Deputy Head of International Office at Université de Poitiers - PCN MSCA)
French-German University: Eva-Maria Hengsbach (project manager)
French-Italian University: Dr Jean-Claude Arditti (member of the executive committee)
fundit (platform): Dr Christiane Abele (project manager)
Royal Society: Dr Marianna D'Arco (Senior Manager)
FNRS: Joel Groeneveld (Project Manager)
EIT InnoEnergy: Dr Isabelle Schuster (Education officer for France - PhD school programme director)
Novartis: Dr Luca Arista (Senior Investigator)
RTDI: Eva Garcia (consultant)
ATOS: Sarah Toumi (Recruiment partner) ; Hervé Scemama (SVP Center of Excellence) ; Dr Tobias Mayer (chercheur)
Novo Nordisk : Marianne Birkeland Kjær (Recruitment partner for R&D and Talent Acquisition)
Bouygues : Dr Floriane Petipas (Project Manager Smart Grids)
Goodyear: Dr Benoit Duez (External Exploration Concept Leader)
OCDE: Dr Elena Crivellaro (Economist)
NovoBiom: Dr Caroline Zaoui (CEO)
ABG: Thao Lang (project manager) ; Dr Sophie Pellegrin (Head of Training Department) ; Catherine Thomas (project manager)
Grant writing: Jean-Marie Pincemin (PCN MSCA) and Dr Catherine Villard (expert-evaluator - research director at Institut Curie)
CARE network: Sarah Blackford (Consultant) ; Heike Langlotz (Project Manager at DKFZ) ; Dr Anethe Manssen (Career Programme Manager chez KI) ; Dr Laurence Theunis (project manager Doctorat.be)
FOR RECRUITERS
If you are member of ABG, we can help you to promote your vacancies and/or organisation during the day:
highlight of your job ads pubished on our website www.abg.asso.fr
presentation of your entity in the leaflet dispatched to all participants
being present with a dedicated exhibition booth
if you can't be present on site, display of your flyers on the exhibition booth of ABG
Interested? Contact us!
For companies that are not yet a member of ABG, it's time to join us! More info here.
Interested in contributing to some conferences ("Recruitment process" or "Public-private partnerships")? We will be happy to welcome you as speaker. Let us know!

PRACTICAL INFORMATION, REGISTRATION AND programme
When? December 11 and 12, 2017
Where? CIUP Fondation Biermans Lapotre (RER B "Cité Universitaire")
Registration deadline: 4 December 2017 (limited number of participants - registration on "first come first serve" basis)
Attention ! The registration is for your participation at the plenary sessions only. Registration for workshops and individual advisory sessions will be open later.
Contact
Bérénice Kimpe (partnerships, speakers, exhibitors)
berenice.kimpe@abg.asso.fr
Tel. : (+33) (0)1 42 74 45 46
Maria Butzke (participants)
maria.butzke@abg.asso.fr
Tél. : (+33) (0)1 42 74 88 98
Clarisse Bouillot / Ilaria Ciravegna
univ.italo-francese@unito.it
Tel. : (+39) 011 670 4171/4247

Find out more
More information about ABG?
Get ABG's monthly newsletters including news, job offers, grants & fellowships and a selection of relevant events…
They trusted us