Parcours accompagnement vers l'emploi
5 étapes pour faire le point sur votre parcours, vos envies, explorer le champ des possibles, construire un projet et passer à l'action !
Programme intensif de 5 demi-journées sur un mois à partir du vendredi 20 septembre 2019.
Vous êtes en pleine réflexion sur la prochaine étape de votre carrière ? Vous vous interrogez sur ce qui est possible en dehors de la recherche académique ? Vous souhaitez savoir comment accéder à un projet motivant et cohérent ?
Oui, mais… vous ne trouvez pas le temps de vous poser, vous avez du mal à vous y mettre tout seul et finalement, vous n'avancez pas.
Si vous vous reconnaissez dans cette situation, ce parcours d'accompagnement est fait pour vous !
Je vous propose de cheminer ensemble pendant 5 demi-journées dans un cadre bienveillant et motivant au sein d'un petit groupe.
Nous ferons le point sur votre parcours pour mettre à jour vos atouts, vos motivations et vos envies afin d'établir votre boussole professionnelle.
Nous partirons à la découverte de nouveaux horizons pour explorer votre champ des possibles et faire émerger les contours de votre projet.
Enfin, je vous apporterai les ressources nécessaires pour optimiser votre recherche d'emploi.
Alors, si vous avez envie de vous lancer dans l'aventure, d'avancer concrètement dans cette réflexion et d'être outillé pour la prochaine étape de votre vie professionnelle, contactez-moi ! catherine.thomas@abg.asso.fr
Les plus :
La dynamique d'un petit groupe
L'apprentissage par l'action
Une méthode de recherche d'emploi éprouvé
Un accompagnement personnalisé dans la durée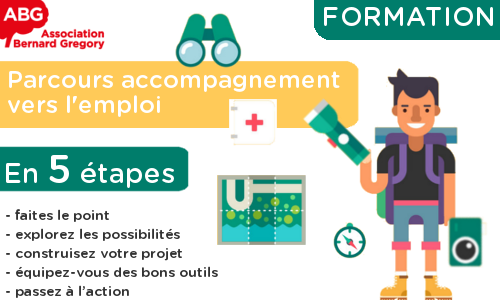 From 20 September 2019 - 9h
to 25 October 2019 - 13h
les vendredis 20 et 27 septembre et les vendredis 4, 11 et 25 octobre 2019 de 9h à 13h
Training catalogue record
Designing your career plan and taking action
Inscription
Open

Registration process

en ligne

Number of seats
8
Audience
- PhD candidate
- PhD-holder

The training session will be conducted in:
French
---
| | |
| --- | --- |
| Paid service | |
| Rate (per person) | 250 € TTC |
Goals
Construire un projet professionnel motivant et cohérent
Mettre en œuvre son projet et construire des candidatures efficaces
Program
Réflexion sur soi, ses ressources et atouts
Réflexion et travail sur le parcours réalisé, les choix qui l'ont jalonné
Analyse et présentation de ses expériences, de ses réalisations et de ses compétences
Analyse des goûts et motivations personnels et professionnels et des valeurs, réflexion sur les envies et ambitions professionnelles
Connaissance de l'environnement, des attentes du marché du travail
Construction collective d'une approche professionnelle des démarches réseau
Mise en oeuvre de la démarche réseau pour recueillir des informations sur le marché de l'emploi
Bilan et mise en œuvre
Construction d'une candidature adaptée à son projet
Préparation aux entretiens de recrutement
Address : 239 rue St Martin 75003 Paris France
More information?
Get ABG's monthly newsletters including news, job offers, grants & fellowships and a selection of relevant events…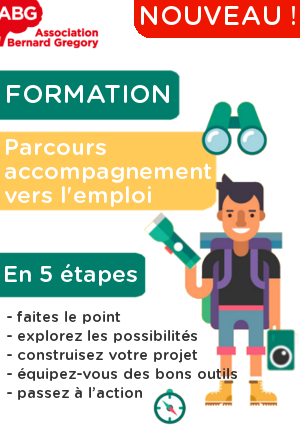 They trusted us