AvanThèse
[0.5 to 3 days]
Should I do a PhD? That is the question, and it is best to know your answer to it before making a three-year commitment or giving up due to a lack of information! Developed jointly by representatives of academia and the socio-economic sphere, AvanThèse is a workshop to help you reach an informed answer to that question.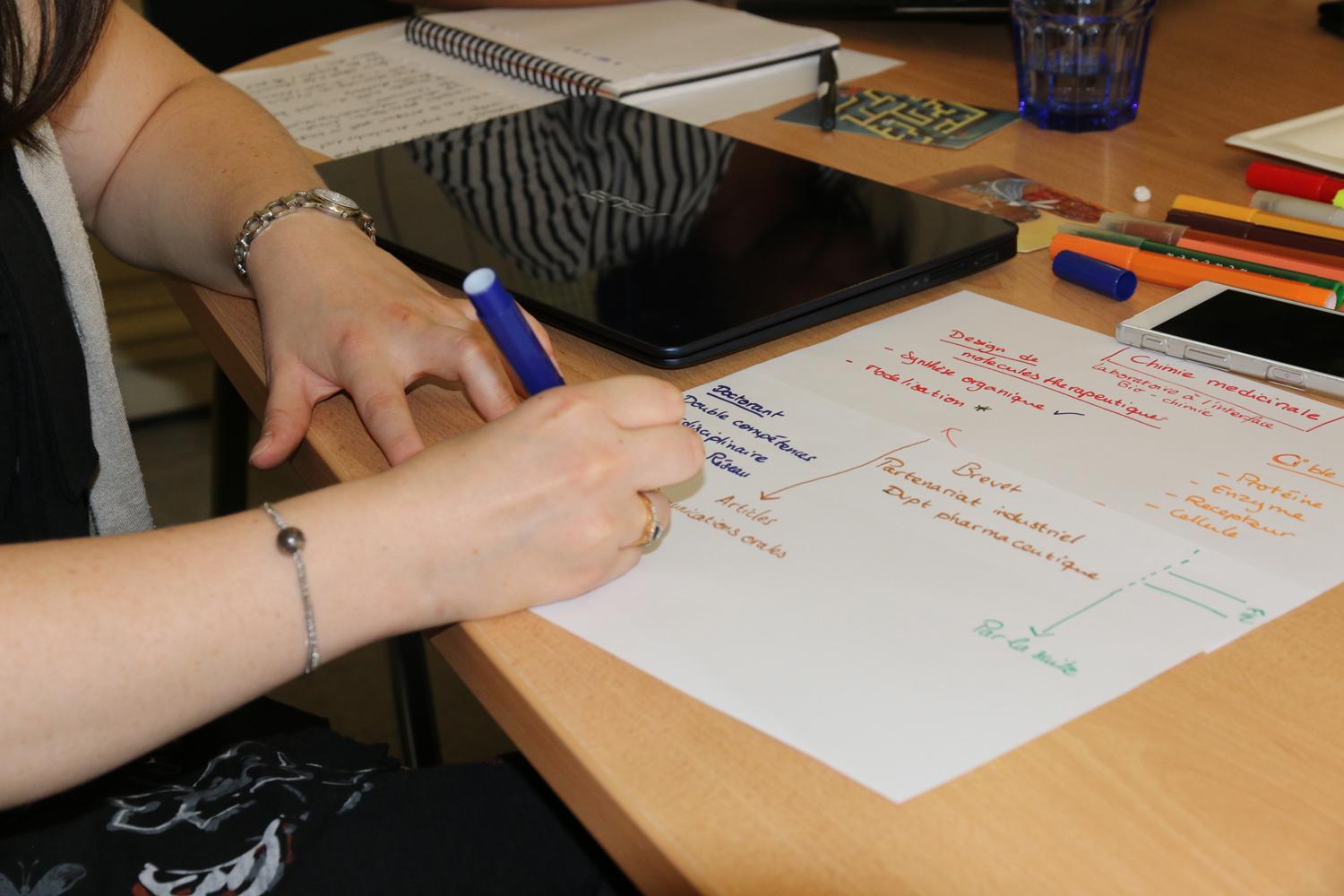 Companies, research institutes, universities, foundations and other organizations: please contact us to schedule an AvanThèse workshop.
Target audience:
Master or engineering degree holder/candidate
-
Goals
Make informed decisions about your career path
Understand the unique aspects and value of research training
Foresee difficulties to avoid drop-outs and get the most out of the doctoral training program
Become an architect of your own career
Benefits
Interdisciplinary and multi-cultural groups
Co-construction of knowledge with the group, sharing of experience
Learning by doing with individualized support (for the in-depth training)
Program
3 formats: awareness workshop (one half-day), in-depth training (1 to 3 days) and project realization seminar (1 day)
Awareness workshop
Collective discussion on the perceptions of doctoral programs
Pooling of trainee questions about doctoral programs and their own situations
In small groups, sharing of information to find answers to questions
Discussions on the information compiled, deeper analysis with the trainers
Conclusion
In-depth training – Three inter-related topics and an assessment
Your lifeline - one-on-one discussion in which potential candidates can express their aspirations and draw on past experiences to guide their career and training decisions.
Research and information gathering: How to use the internet (especially) to gather information and documentation to define your career plan. Pursue a well-thought-out approach and become familiar with the appropriate tools.
Interviewing and networking: acquisition of methods and techniques for building a network of contacts, preparing and conducting efficient interviews with professionals including PhD-holders.
Assessment: writing a synthesis, developing a training strategy and a coherent career plan, presenting research outcomes to an audience.
Project realization seminar
Take stock of the actions and steps taken.
Define an approach strategy consistent with the context.
Refine and optimize one's communication tools.
Build a realistic roadmap.
Testimonies
"Following my participation in your AvanThèse workshop on 1 March 2019, I finally took the plunge and joined the process of continuing my professional project through a CIFRE. I followed your advice, created my own project and used my network to find a laboratory and a company ready to follow me. The subject is currently being reviewed by the laboratory in order to submit the file on the ANRT platform (target end of October)." (A working professional)
"I write to tell you about my meeting with company xxx and especially to thank you for our session. You encouraged me to continue and gave me the means to achieve my project. […] I have to meet with the members of the scientific committee and a commitment officer at La Défense and present a fairly tight project by June 3. They'll help me organize my ideas, develop the project and also find a lab..." (A working professional)
"I wish to thank you for the mentoring session, which gave me peace of mind to head into my interview for a PhD admission at ULB. I followed your advice, I gave my presentation in front of the team, who seemed interested and asked me numerous questions. I was also able to spend the whole day in the laboratory. The day's outcome was highly favourable: the team manager contacted me earlier this week to invite me to start my PhD program in early August… and I said yes!"
"I just wanted to keep you in the loop, and let you know that I received a favourable response after my interview. Thank you once again for the training workshop, which was really helpful for me. Now I am setting about writing my proposal to submit to the ANRT (French National Association of Research & Technology)."
"…This perspective will prove opportune for the (first) ULB participants in this unprecedented initiative. ABG and its partners have developed a very impressive tool. We are delighted to have had the opportunity to allow our "mentees" to take advantage of it. (Marc Vandeur – Département Enseignement – InfOR-emploi – Université Libre de Bruxelles (ULB).
Training calendar
No upcoming training session by now.
More information about ABG?
Get ABG's monthly newsletters including news, job offers, grants & fellowships and a selection of relevant events…
They trusted us