Training programs
Announcement for training programs.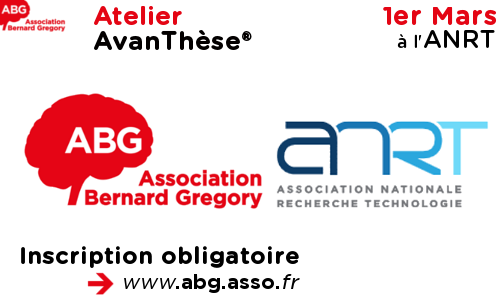 Vous êtes étudiant de master ou élève-ingénieur et vous vous interrogez sur la pertinence de poursuivre en doctorat ? Participez à la prochaine session de l'atelier AvanThèse® proposée par l'Association Bernard Gregory en partenariat avec l'ANRT, l'association qui gère et anime le dispositif Cifre du MESRI.
Elle se tiendra le 1er mars 2019, de 13h30 à 17h30 à l'ANRT (33 Rue Rennequin, 75017 Paris)
Are you a PhD holder? Are you wondering about the next step in your career and considering it outside academia?
Don't miss the next session of the Post-Doctoriales®, organized by ABG with the support of the City of Paris, from November 16 to 18, 2021, in Paris.
Register now (limited number of places)!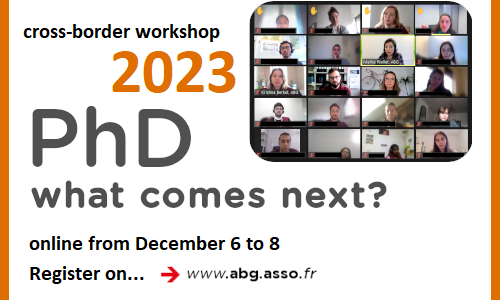 Together with its partners from Luxembourg and Germany and with the support of the French-German University, the Luxembourg National Research Funds (FNR), ABG is organising a new online edition of the cross-border seminar for PhD candidates and holders "PhD, what comes next?". This seminar is aimed at PhD candidates and holders from France, Germany and Luxembourg interested in developing their career outside academia. On your marks? Get set? Apply now!
More information about ABG?
Get ABG's monthly newsletters including news, job offers, grants & fellowships and a selection of relevant events…
They trusted us