Training programs
Announcement for training programs.
Are you supervising doctoral candidates and interested in consolidating the principles and practices turning your management activity into something meaningful? ABG is organising a training course in Paris on 23 and 24 April 2019 from 9 am to 5:30 pm.
You a doctoral candidate or a PhD ? You are looking for a job, or will be soon and you are in need for effective communication tools ? What if the best way to learn was by playing ? ABG organizes a training session (by videoconference) on january the 29th, from 9.30 am to 12.30 pm. Register now!
(THIS SESSION WILL BE HELD N FRENCH LANGUAGE)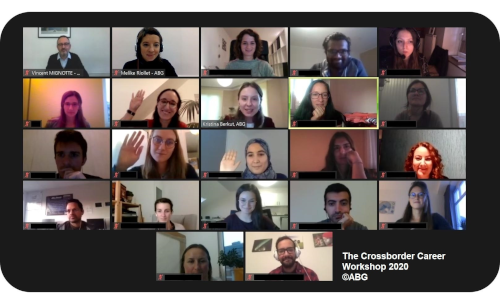 The crossborder workshop took place from 18th to 20th November 2020 and brought together participants from Luxembourg, Germany, and France. This year's event was designed for PhD candidates at the end of their doctoral program and young researchers on a temporary contract from all fields who wish to pursue their career in the non-academic sector.
More information?
Get ABG's monthly newsletters including news, job offers, grants & fellowships and a selection of relevant events…
They trusted us