EIT InnoEnergy's calling for european energy startups
Are you an innovative start-up in the sustainable energy sector, at early or acceleration stage ? Apply before 30th of june 2018 and join the European investor and accelerator InnoEnergy !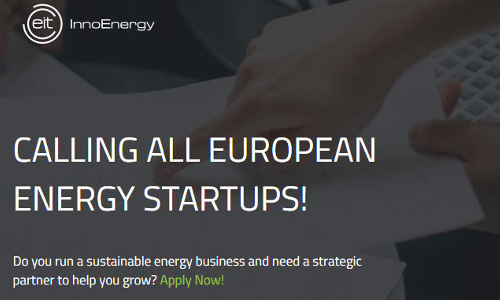 ---
---
InnoEnergy is the European accelerator and investor supported by the largest alliance of industrial players and academics in the sustainable energy sector. Through our pan-European network of 300 partners, we support innovative start-ups at both early and acceleration stage. Our headquarters are in the Netherlands and we develop our activities through our network of offices located in 17 European countries.
Expand your network: tap into our global network of partners and high-level experts as mentors or as members of your Board of Directors.
Increase your sales: with the support of our dedicated sales force, we can connect you with potential customers from our network and beyond.
Professionnalize your company: from the lab to the market, identification of clear target market, definition of solid business case; definition of marketing, sales and financing strategy.
Support: Our tailor-made services can be worth more than 500K€ in different phases.
Capital investment: InnoEnergy provides capital investment and works with you in the go to market and growth phases.
We invite the most innovative sustainable energy start-ups to join one of our two acceleration programmes:
The Highway™ (for entrepreneurs and start-ups at the beginning of their journey) ;
The Boostway™ (for more firmly established companies looking to grow their business through industrialization and internationalization of their offer).
We are looking for innovative start-ups with:
Technology that has been validated in a relevant environment.
The project must belong to one of our eight areas of focus or technology fields.
Have a defined business plan.If yo
If you´ve still got questions, please join our webinar session with our team of experts on June 13 and 17h CET.
More information about ABG?
Get ABG's monthly newsletters including news, job offers, grants & fellowships and a selection of relevant events…
They trusted us