The workshop-contest "Pitch your professional brand" for ESPCI's UPtoPARIS program
ABG organized from March 17th to 18th, 2021 its first pitch contest in English for a COFUND program of ESPCI Paris. The online event brought together 9 fellows with a jury of 4 company executives.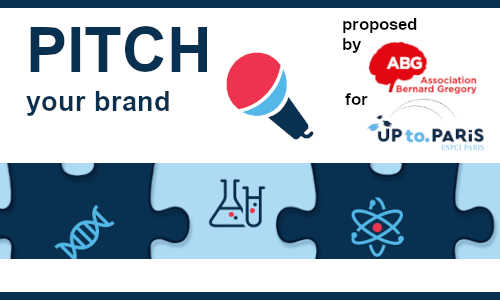 ---
The jury and their words of advice
Testimonial of one participant
---
For the first time, ABG's traditional professional pitch contest has been adapted and held in English for an international doctoral programme.
« Pitch your professional brand » workshop-contest is the final step of a 3-year career development training program implemented by ABG for ESPCI's UPtoPARIS doctoral fellows. The goal is to give the PhD candidates the opportunity to practice presenting their experience, assets and career goals in an efficient manner as if they were networking or in a job interview, and to develop their network outside academia.
The one-day coaching session dedicated to efficient communication and networking where the participants prepared and practiced their pitch was followed by a half-day event during which 9 fellows coming from all over the world met representatives of 4 partners of UPtoPARIS program. They presented their "professional brand" and career goals in front of this jury and received feedback.
The jury
4 executives of leading industrial companies took part in the event :
The jury applauded the quality of the pitches and highlighted the importance of preparation to be able to talk about one's career path and especially the PhD experience.
Their advice
You need to be prepared, but not too prepared! While pitching, it is important to be natural.

Some stress is normal. The recruiter appreciates to see the passion and the emotion related to it. (This "emotion" will also remain at the further stages of the career, for example during presentations for top management).

When you pitch, you need to give just enough information to start a discussion. Do not try to tell everything at once, let your interlocutor ask you questions.

The parts of your career not mentioned in your presentation are as much important as the ones you talk about !

Do not focus too much on the details of your PhD research. In your future job, you will probably be working on several different topics.

During an online interview, check whether your camera and sound are working correctly before you start speaking and ask if your interlocutor can hear you. This will also be the occasion to start interacting spontaneously with the person in front of you.

Do not be disappointed if the very first recruitment interview does not go the way you want. Reflect on this experience, it will allow you to improve your communication.
After the pitch session, the participants also had the chance to have informal discussions with the jury and to ask them their questions about research in industry, the recruitment processes, job interviews and recruiters' expectations.
ESPCI Paris and ABG warmly thank all members of the jury who took the time to participate in this event to help support PhD candidates in their career development.
We have been having career trainings together for three years now and this pitch event was a great ending to this career program. All the pitches were of very high quality. We clearly see how each one of us has progressed in our career plan and in the way we present our career path and goals.
If you are interested in organizing a similar workshop for international PhD candidates or postdocs, feel free to contact us:
Melike Riollet - International Development Manager // melike.riollet@abg.asso.fr
Kristina Berkut - Training and International Cooperation Manager // kristina.berkut@abg.asso.fr
More information about ABG?
Get ABG's monthly newsletters including news, job offers, grants & fellowships and a selection of relevant events…
They trusted us