French-Italian University's call for projects 2023
The French-Italian University (UFI) has launched calls for projects to support researchers and PhD candidates through the funding of mobility between France and Italy. The deadline for applications is April 21, 2023 at 12:00 noon (CET).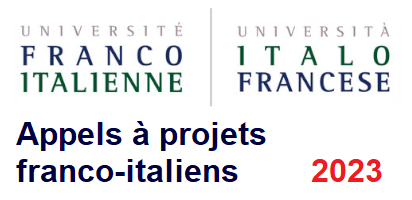 Call for French-Italian Chairs 2023
Call for visiting professors 2023
---
The French-Italian University is an institution that fosters academic and scientific cooperation between France and Italy in the field of education and research. The Vinci call for projects aims to promote the integration of the French and Italian higher education systems and to contributeto the process of harmonization of university systems in Europe.
---
The call for projects for the French-Italian Chairs is intended to provide financial support to French and Italian universities interested in the creation of a joint project. It mainly intended to accommodate researchers or professionals of the highest scientific reputation as visiting professors. The project should take place in the context of a strong collaboration between the two partner institutions with the involvement of others such as students and PhD canidates, as well as the creation of specific events and/or the activation of joint doctoral programs.
The call for proposals for French-Italian Chairs aims to :
Host a visiting professor(s)

Activate short mobility schemes for student and/or PhD candidates

Organize events related to the project's theme.
1/ VISITING PROFESSORS: TERMS AND CONDITIONS
This component is aimed at teachers, researchers or professionals associated with universities, research structures or companies in France or Italy.
The visiting professor will be expected to teach on a Bachelor's or Master's degree course.
Research, laboratory, mentoring and seminars may be provided in agreement with the host institution.
Reciprocity between both institutions is highly encouraged.
An acceptance letter signed jointly by the Director of the Department and the Visiting Professor should be attached to the online application.
2/ SHORT MOBILITY SCHEMES FOR STUDENT AND/OR PHD CANDIDATES: TERMS AND CONDITIONS
For selected projects only:
Funding of short student and/or PhD canidates mobility, for individuals enrolled in the French and/or Italian partner institution.
The duration of the mobility is limited to 2 months.
Activities: research (dissertations, ricerca tesi, field experiments, laboratory visits, etc.), professional integration (internships), complementary training (courses, seminars, etc.).
3/ INITIATIVES OF HIGH CULTURAL AND SCIENTIFIC VALUE
For selected projects only, a part of the funding will be devoted to the following activities:
- Scientific publications,
- Seminars, conferences, congresses, summer schools, co-organized between the two countries,
- Franco-Italian cultural events in relation with the academic world or with international scientific societies,
- University courses specifically Franco-Italian and/or integrated in European or Euro-Mediterranean networks,
- French/Italian translations and vice versa,
- Translation into both languages of the material related to the event to be funded, including simultaneous translation.
The selected projects will run for two years and activities can take place in the academic years 2023/2024 and/or 2024/2025.
Funding of up to EUR 27000 per slected project.
For more information, visit the the dedicated page to the call for projects.
The deadline for applications is April 21, 2023 at noon (Paris time).
This call for proposals aims to provide financial support to French universities interested in hosting renowned visiting professors, researchers or professionals from academic, research or business institutions for a minimum of one month of teaching.
TERMS AND CONDITIONS:
The Visiting Professor will be required to perform a teaching service on a degree course (Bachelor's or Master's), of a minimum duration of one month not necessarily consecutive, which will take place during the academic years 2023/2024 and/or 2024/2025.
Funding of up to 6,000 euros for each selected project
The deadline for applications is April 21, 2023 at noon (Paris time).
Discover the call for French-Italian projects Vinci 2023
Find out more
More information about ABG?
Get ABG's monthly newsletters including news, job offers, grants & fellowships and a selection of relevant events…
They trusted us