Business Webinar on Funding and Recruiting International Researchers (MSCA-IF)
Discover the MSCA-IF funding scheme and the services to help recruit and welcome international researchers during the webinar organized by ABG and France Innovation on May 15th at 11am.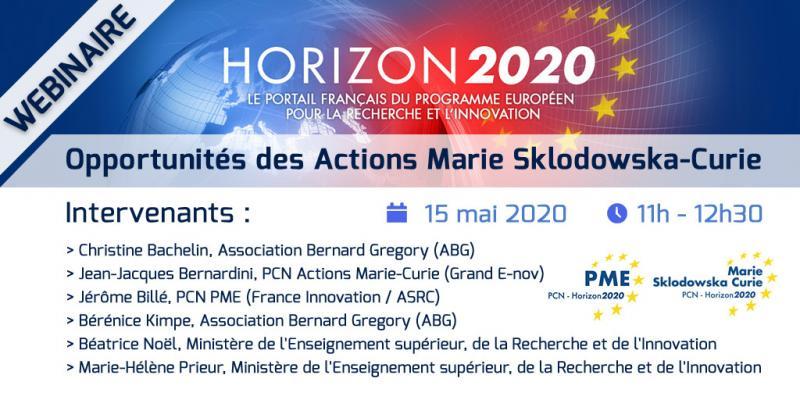 You are an academic organisation and you want to learn more about MSCA funding schemes? The French NCP MSCA will organise on May 12 and 19 2 online sessions in the morning, to present respectively the individual fellowships (IF) and the COFUND program.
---
---
You are a company (of any size and in any sector), an association, a museum, an international organisation or a foundation. You are involved in research activities and are considering recruiting a researcher for a project lasting 12 to 24 months.
A European programme allows you to recruit international profiles and to fully fund the salary of your researcher, while having immediate cash flow: the Marie Sklodowska Curie Actions.
Take part in the webinar to find out how to apply for funding and how to speed up and facilitate the process of obtaining a visa for your international researcher.
Programme
Introduction (France Innovation / NCP SME)
General presentation of the MSCA-IF programme: eligibility, funding, procedure (NCP MSCA)
International Recruitment of Researchers (ABG)
Facilitate and accelerate the obtaining of the visa for your researcher: the hosting agreement (MESRI - French Ministry for Higher Education, Research and Innovation)
speakers
France Innovation: Jérôme Billé (General Delegate)
MSCA NCP: Jean-Jacques Bernardini (Head of Europe at Grand E-nov)
ABG: Bérénice Kimpe (International Cooperation) and Christine Bachelin (Corporate Relations)
MESRI: Béatrice Noel (Head of Department - HR Strategy, Parity, Anti-Discrimination Department) and Marie-Hélène Prieur (HR Strategy, Parity, Anti-Discrimination Department)
registration
Let's meet on 15 May at 11am
About partners
Association Bernard Gregory (ABG)
ABG is a non-profit organisation, established in 1980 with the support of the Ministry of Research, research organisations and companies. Its vocation is to help companies recruit PhDs and to accompany them in their professional evolution towards the private sector. ABG has strengthened its European presence, in particular through its participation in various European projects.
To know more about its international activities
France Innovation
France Innovation is a professional association that brings together private providers of research and technological development, companies offering innovative products, processes or services and players in the field of innovation consulting and support.
Find out more
More information about ABG?
Get ABG's monthly newsletters including news, job offers, grants & fellowships and a selection of relevant events…
They trusted us