Tecniospring Industry: a Catalan programme to foster collaboration between academia and industry. Application deadline: 30 September 2019.
Tecniospring INDUSTRY, ACCIÓ's international talent programme, boosts technology transfer processes by offering R&D companies and centres 2-year employment contracts to host a researcher (100% funding).

---
What does the programme support?
---
About the programme
With a budget of 11 MEUR and co-financed by the H2020 Marie Skłodowska-Curie actions of the European Union, Tecniospring INDUSTRY plans to award 72 fellowships for the 2019-2024 period.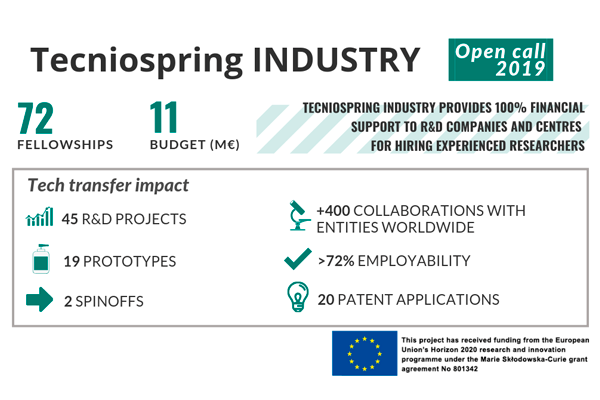 What kind of research project should it be?
Tecniospring INDUSTRY covers applied research projects with a clear market focus. Projects must be aimed at developing a new technology and bringing it to the market.
Who can participate?
Proposals are submitted by a Catalan host entity, together with an experienced researcher.
Catalan host organisations may be companies located in Catalonia (startups, SMEs and multinationals) or TECNIO entities (research centres accredited by the Government of Catalonia through ACCIÓ).
Experienced researchers of any nationality with a PhD and two additional years of full-time research experience, or at least six years of full-time equivalent research experience.
Tecniospring INDUSTRY has two options:
Incoming: 2-year contract in a Catalan company or a TECNIO entity.
Outgoing + return: 1-year contract in an international tech-based company or R&D centre (located outside Spain), and 1-year contract in a Catalan company or a TECNIO entity afterwards.
What does the programme support?
Tecniospring INDUSTRY offers financial support to cover up to 100% of 2-year employment contracts and develop research activity:
Salary costs (with full social security coverage): Incoming: 58,500€ per year. Outgoing & Return: 58,500€/1st year x coef. 58,500€ 2nd year.
Research costs: 18,240 €.
Mobility costs: 1,920 €.
Fellows benefit from excellent career progression and top-notch training in technology transfer:
Protection policies and patenting strategies

Prototyping, proof of concept and scaling up

Market analysis, client identification and promotion

Licensing methods and negotiation

Spin-off creation: business plan, funding and team management
The programme also offers outreach activities to help transfer knowledge outside the network, as well as networking activities to share contacts and create synergies.
Application
Who can apply?
Researchers must not have resided or carried out their main activity in the country of their host organisation for more than 12 months in 3 years immediately prior to the deadline for the submission of applications. Exceptions will be made for candidates with justified career breaks.
How to apply
To submit your project, please fill out the application form along with the CV in accordance with the official documents (see below).
Projects are joint proposals submitted by a Catalan host entity together with an experienced researcher of any nationality.
Schedule
Call opening: 23 July 2019 (00:00)
Call deadline: 30 September 2019 (14:00)
Evaluation process: until February 2020
Start of fellowships: from March to June 2020
Applications are submitted online.
Information and contact
E-mail: tecniospring.accio@gencat.cat
Tel.: (+34) 93 476 73 02 or (+34) 93 476 72 94