Thesis topic Sociology, anthropology, learning sciences
Université Grenoble Alpes
Thesis
Saint Martin d'Hères , Auvergne-Rhône-Alpes , France
This project addresses a main "global" research question: To what extent does the fit or misfit between the characteristics of teachers and the characteristics of their work-environment affect job satisfaction, organization commitment and ...
Sociology, anthropology, learning sciences
Person-Environnement Fit, Teacher motivation, longitudinal
Ref. ABG-98785
2021-06-14
Thesis topic
Public funding alone (i.e. government, region, European, international organization research grant)
Sannois , Ile-de-France , France
L'accessibilité numérique souffre à l'heure actuelle d'un décalage entre l'accessibilité réelle mesurée et la conformité aux normes censées la garantir. Cet &eacute ...
Sociology, anthropology, learning sciences
-
Communication, information, media, culture
-
Law, political science, geopolitics
Handicap,FALC,Médiation,Sociologie des organisations,Discrimination,Humanités numériques,Accessibilité numérique,WCAG
Ref. ABG-98678
2021-06-08
Thesis topic
Cifre
Les autres offres Thesis topic
Les autres offres Sociology, anthropology, learning sciences
More information about ABG?
Get ABG's monthly newsletters including news, job offers, grants & fellowships and a selection of relevant events…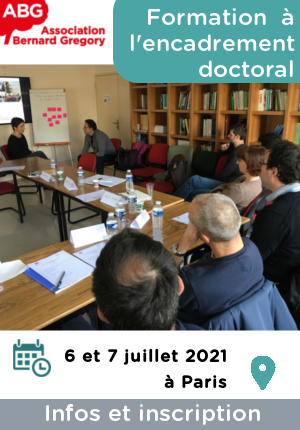 They trusted us