Highlights of the French-Italian day for early career researchers 2021
On October 28th, 2021 took place the first online edition of the Franco-Italian day for early career researchers (from all disciplines). This event was organized by ABG, in partnership with the University of Turin, and with the support of the Italo-French University, and offered a rare opportunity for students and researchers from both countries to meet and discuss with experts in the field of Franco-Italian mobility !
In this article, you can consult the program, watch the replay of all the sessions and find the presentation of each speaker.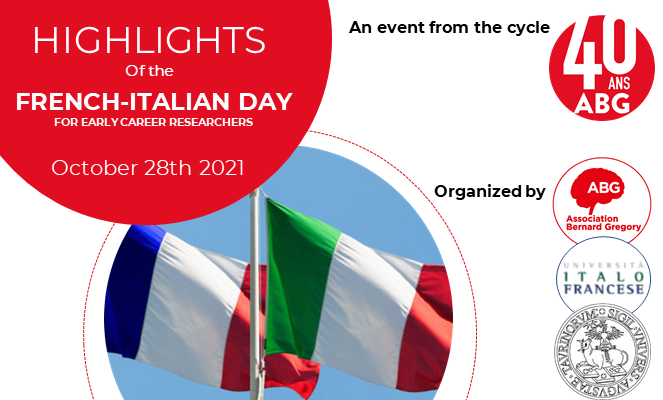 ---
Program and speakers biographies
Detail of the sessions [videos]
International job offers and mobility testimonies
More resources about researchers' mobility
---
This event is an informative introduction to the opportunities and ways in which to build your professional project in the Franco-Italian area. It is targeted at master's students, PhD candidates, and post-doctoral researchers whatever your field is.

It is also targeted at:
career management officers;
international relations managers in universities and research organizations;
recruiters in the public and private sectors.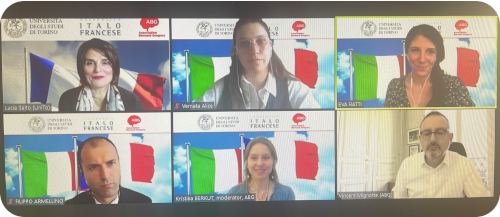 The program included...
Presentation of different mobility schemes between the two countries & associated funding;
Round table on recruitment processes in Italy and France with recruiters from the socio-economic sector;
Testimonials of PhD holders who have experienced French-Italian mobility.
The program & short biographies of the speakers
Presentation Gaëlle CALDARA [Coordinator of the French-Italian University]
Presentation of the French-Italian University's funding schemes
Presentation François PRADAL, Marilène LANGLOIS [Campus France Head of Research department & Program Manager]
Campus France and its tools for discovering the international Alumni network and for finding funding schemes
Presentation of Serena CHEREN [Agency for the Promotion of European Research]
APRE: MSCA - Postdoctoral Fellowship scheme (Italy and France) and the impact of Covid-19 on researchers' mobility
Presentation of Eva RATTI [Findyourdoc]
A glance on the selection process with a PhD diploma at hand
Presentation of Dario PETTENON [HR and Training Expert, Assolombarda]
Helping PhD students to track their career path
Presentation of Dr Melike RIOLLET [ABG - International development manager]
ABG - Supporting sectoral and international mobility of PhDs
Opening Presentation of the French-Italian university 's funding schemes
French-Italian mobility programs and funding schemes Good practices and opportunities for PhD holders
Panel discussion #1 Panel discussion #2
Recruitment processes outside academia Recruiters' expectations, job search & mobility experience

International job offers
How about taking action now? Perhaps you could start by assessing the job market and check out the opportunities in certain countries?
We provide a job board on our website www.abg.asso.fr. To access the international offers, you simply need to:
activate the sorting criterion "international offers";
or select a country from the drop-down menu on the left.
P.S: Our job board also contains internship offers and thesis topics... so spread the word !
PhDs' mobility testimonies
You still need to hear / read more? Or simply to be more inspired? No problem, we offer a series of PhDs' testimonials [available in English and French] in the form of articles, or videos, in the section "the ABG perspective" of our website www.abg.asso.fr. It provides a variety of testimonies of PhDs from all disciplines, and all seniorities, who tell their stories of mobility... whether it is inter-sectoral or geographical.
We can also assist you with a precious tool : the country by country mobility guide gives very simple access (by means of an interactive map) to all the resources available, by country: grants, funding, testimonials, calls for applications, European projects, etc. Definitely a tool to keep in mind!
Our PhDs' testimonials ABG's country by country mobility guide
For (many) more resources regarding all the issues surrounding mobility, we encourage you to take a look at the videos we produced after our event :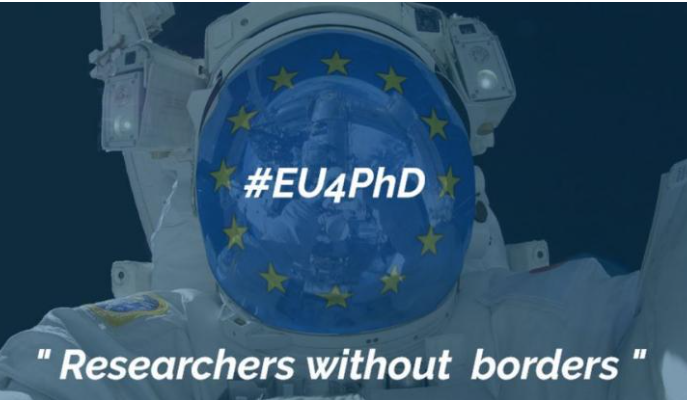 Organized in 2017 by ABG, UFA-DFH, UFI-UIF, this event was a unique opportunity to meet representatives of companies, research institutes, mobility funding bodies, and career advisors from different European countries.
Through plenary sessions, workshops, individual advisory sessions and a fair, participants were able to deepen their knowledge of:
European research landscapes;
Doctoral and postdoctoral funding programs;
Recruitment processes in both the academic and industrial sectors.
They were also offered advice and information on how to address mobility-related challenges such as:
pensions;
dual-career couples;
return mobility.
Consult the videos of all the sessions, as well as the event's highlights and practical advice given by the speakers on following topics:
recruitment process in industry and academia;
doctoral and postdoctoral funding schemes (Marie-Curie-Sklodowska actions and EIT InnoEnergy);
practical information for a mobility in Europe: Euraxess, dual career service, pension fund;
public-private partnerships and their impact on PhD career development.